"Being able to nurture, support, and grow creators with a strong relationship to your brand or company is really important, in order to galvanise audiences" – Talking Digital with James Day, Director of Community at Dovetail Games
What is the biggest challenge facing the digital industry and why?
Establishing an authentic connection with your customers in a world in which relationships are becoming increasingly digital, and in which interactions are becoming increasingly fleeting.
Fighting for digital real estate is becoming increasingly problematic, which is why disruptive forms of marketing such as influencer marketing and community marketing are becoming so important in establishing long-term brand affinity and advocacy.
What excites you? What do you think will be the next 'gamechanger' in digital marketing?
Community marketing. Nurturing and establishing strong relationships with key members of your customer community (moderators of fan pages, high-profile reviewers, content creators) helps brands build a strong, engaged, retentive customer base, through which these community 'influencers' hold a very strong currency.
With customers' trust of brands pretty low at the moment, people look to who they can trust in their circle of influence. These people carry a lot of weight, and establishing mutually-beneficial relationships with them can be a great way to reach places you'd previously never been able to, in ways which, as a brand, are very difficult to emulate.
What's the most interesting digital campaign you've seen recently?
Not one campaign in particular, but I'm seeing a lot of brands do some interesting and creative things with TikTok. Without the shackles of high-production, and the growth of powerful subcommunities in the platform, brands are really able to build authentic, funny, and engaging content that really resonates with a whole new demographic, without it being a 'Hello, fellow kids!' moment.
I also loved Burger King taking over Stevenage FC (one of my local teams), in order to get their branding into FIFA.
Is there anything you're currently working on that you can share?
I'm relatively new into my role at Dovetail Games, but we're working on how we can build out a robust, mutually-beneficial ambassador programme. Within the Games industry, being able to nurture, support, and grow creators with a strong relationship to your brand or company is really important, in order to galvanise audiences you'd struggle to reach otherwise in a positive way.
What burning question would you like to ask other industry experts?
How do you nurture and support creativity in your team(s)? We offer a morning every fortnight for people to do something creative they enjoy, but I'm sure there are many other ways!
Digital marketers often talk about the value exchange. Do you think consumers appreciate the concept?
It depends how it's packaged, and what the 'value' consumers get from it is. If you sacrifice your data, you want something meaningful in return – and a lot of consumers don't see targeted (sometimes creepily specific) ads as a sufficient exchange for that information.
Think about your customer lifecycle whenever you ask players to submit their data to you. Can you enrich their life with the information you have? Sending a money-off voucher on their birthday, congratulating them on a year's subscription with some personalised information (like Spotify do with their annual Spotify Unwrapped), or providing them with early access to sales or information are all ways in which you can make these people feel special, valued, and more compelled to share information with you.
What do you wish you'd known 10 years ago?
Not to worry that I didn't know what I was going to do with my career! I was in my second year of university, without a clue – and at the time, jobs in Social Media and Community Management were things I didn't even know you could do as a job. Life has a funny way of working itself out – and I'm now a Director of Community for a games company – something I could only dream of at the time!
How did you start your career? How has your role evolved?
As mentioned above, I didn't really know what I wanted to do when I left university. I wanted to write, but spent the summer searching for jobs, until I stumbled on an opportunity to work as an intern for a B2B small business advice hub. Whilst it was for a Social Media Specialist, I ended up doing what I didn't realise at the time was Community Management – supporting our community of small business owners and helping them through the trials and tribulations as a collective.
I was then lucky enough to join a games company based in Cambridge – again as a Social Media Specialist – and my role grew to Head of Community Communications when I left earlier this year. Now I'm Director of Community, managing hundreds of thousands of our players across two franchises, which is simultaneously exciting and terrifying!
In terms of role evolution, it's interesting what responsibilities have come with my roles. I've managed Social, Influencers, Community, Live Streaming Production, Video Marketing, Content Marketing, and very soon Customer Support. Like the world of Social, it's been constantly evolving, and it means it's a very exciting place to be working in.
How do you manage work/life balance? How do you unwind?
We're working from home at present, so having a separate office helps! Running, football, and exercise are great ways for me to let off steam – I'm training for the London Marathon in October, so that'll start taking up more and more of my time! I love food, gin, and cooking, and now we're coming out of COVID restrictions too, seeing friends and family is a great opportunity to escape.
What else should we know about you?
Weirdly enough, in my spare time away from Social in a work capacity, I enjoy making content on Social in a personal capacity. I have a TikTok account, where I like to share everything from pub quiz trivia, to word origins, to things you didn't know had names for them. I love learning, so it's a great way for me to do that as well as helping people with some interesting educational content!
I've also fed penguins at Edinburgh Zoo as part of a work campaign last year (which, let's be honest, is corporate speak for doing things you've always wanted to do and dressing it up as work).
With special thanks to: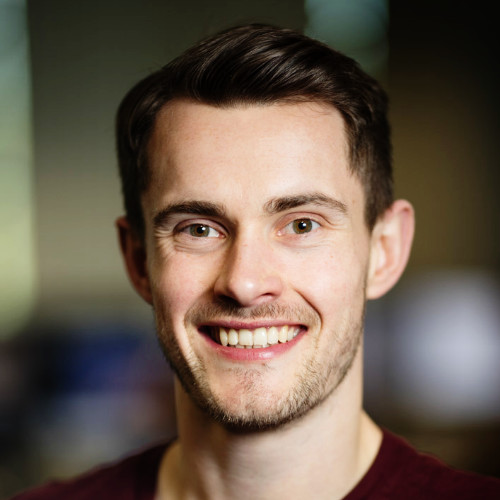 James Day
Director of Community