"For me, success in the future comes down to making sure that we have the right people leaders in place in our organisations at all levels" – Talking HR with Dawn Smedley, Enterprise Sales Lead, Workbuzz
What is the biggest challenge facing HR and why?
I think the biggest challenge at the moment is the sheer volume of challenges HR are facing and the risk of burnout for HR professionals who have had and continue to have so much to contend with. It's unprecedented. The headlines are warning of the 'big resignation' and talent retention is a huge challenge. There are massive recruitment shortfalls in the health and social care sector, driver shortages in others. You've got additional staff shortages due to track and trace challenges, the need to develop hybrid working models and adapt to new ways of working, diversity and inclusion, on-going mental health and wellbeing… The list is endless.
What's the most interesting development in HR you've seen recently?
In our space, it's the shift to more continuous employee listening. Organisations now are leveraging employee voice to inform their strategies more than ever before. It started to happen prior to COVID but has rapidly accelerated in the last 12 months. This is a good thing!
Where must the HR industry change?
For me, success in the future comes down to making sure that we have the right people leaders in place in our organisations at all levels, with the right blend of skills to balance changing priorities around people, planet and profit. Often, we promote people into more senior roles due to them being great in their current role, but do they have the right skills to lead a team the way we want them to be led for the future? People leaders have the biggest impact on the employee experience – they can make or break it. We owe it to everyone to get this right.
Is there one company you think handled the pandemic well from a HR perspective?
We've seen so much great work going on across our client base but a standout for us is HS2. They have really embraced continuous listening and leveraged the WorkBuzz platform to pivot quickly when needed, tracking employee wellbeing throughout and being able to track how well their values are embedding. They have put the employee experience at the heart of their transformation and are seeing tangible business impact as a result.
What burning question would you like to ask other industry experts?
If you could create any product for the HR world right now with unlimited budget, what would it be?
What do you wish you'd known 10 years ago?
Two quotes have really stood out for me in terms of the last 10 years and both are wrapped in a whole journey of accepting myself.
"Comparison is the thief of joy" – I feel I have spent so much of the last 10 years worrying about stuff. Not spending enough time with my kids, not working hard enough, looking at social media and thinking everyone else has it sorted. This quote helped me realise that this can suck the lifeblood out of you. By surrounding yourself with your people, people who love you – that's all you need. They'll have your back, always – good times and bad.
"Be Yourself. Everyone else is already taken" – it's taken me the last 10 years to get there and I still have my wobbles but working somewhere where you can be yourself, makes a huge difference. It's liberating, energising and fulfilling!
Oh and that hormones have a lot to answer for!
How did you start your career? How has your role evolved?
My career has been an interesting one! After University I started working in Event Management and got to travel the world running big conferences and incentives. I love travelling so feel very lucky to have started my career this way. Once our children came along, I had the opportunity to move into Sales and found my love for all things employee engagement and in particular, employee recognition. I worked for a large global recognition company called OC Tanner before joining WorkBuzz and enjoyed every second. I was an 'Appreciateologist' there (best job title ever!) and helped organisations build a culture of recognition. At OC Tanner, they had an amazing institute which gave me an amazing immersion in global research on all things culture and the employee experience. I joined WorkBuzz to be part of a start-up company growing fast and love now taking all that I've learnt into the employee listening space. It enables me to really understand the challenges HR Directors are facing and to be a trusted advisor to them! I'm completely motivated by making a difference so love that my job allows me to do this on a daily basis!
How do you manage work/life balance? How do you unwind?
That depends on the day!!! Not always very well to be honest but I've got better as I've got older at making time for myself. I have just started working four days a week which feels amazing and try to spend the free day doing things I love – big dog walks, time with family, coffee with friends and a bit of yoga thrown in there too. I also found a love for painting during lockdown so try and do a painting a week – not sure where there'll all going to go! And I love netball – this is my crazy hour of release each week, turning red like a beetroot! I started playing again about three years ago after a huge gap and I LOVE it.
What is your lifelong passion away from work?
Travelling – I am a hotel geek and love visiting places I've never been before! My husband and I were lucky to take a year out to go travelling in our late twenties and our ambition is to take our two daughters on a big adventure at some point too!
What else should we know about you?
I once created an appreciation rap for a CIPD conference and performed it live! Yes I am slightly mad but always up for a challenge and bit of fun – life is short and work is what you make it right?
With special thanks to: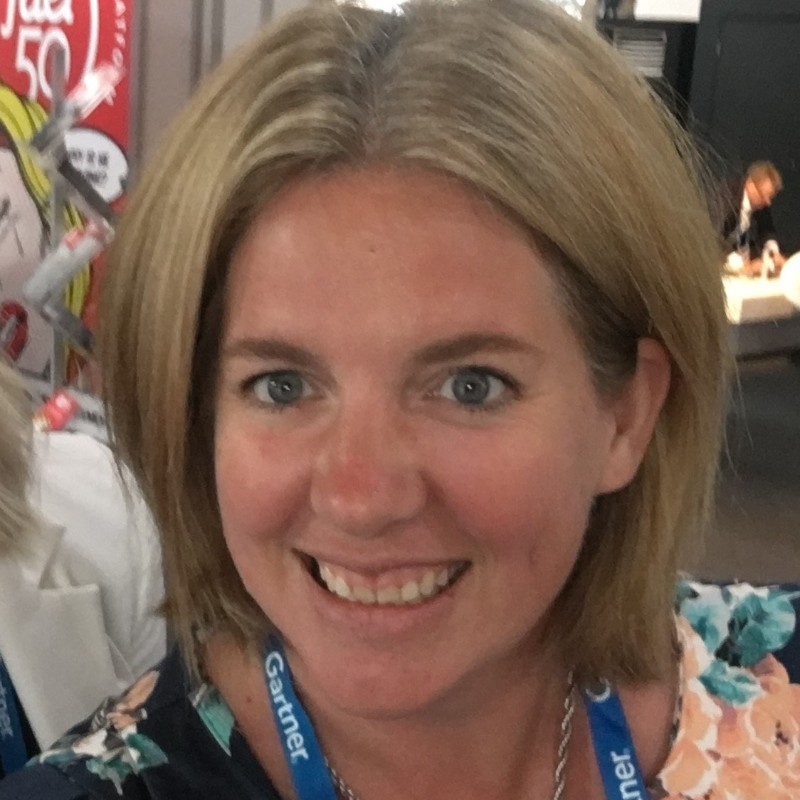 Dawn Smedley
Enterprise Sales Lead