HR
Virtual Coffee Break with Yudelkis Nunez-Rodriguez
We sat down with Yudelkis Nunez-Rodriguez to talk all things HR!
We caught up with Mastercard Human Resources executive and Masterclassing keynote speaker Yudelkis Nunez-Rodriguez to discuss best practices in HR, apps we can't function without and Yudelkis's various career highlights.
What do you wish you'd known 10 years ago? (If you could ask yourself)
In terms of where I am today versus where I was ten years ago, it would have been beneficial for me to have had a broader set of experiences. The majority of my work has been focused on employee relations, but I wish I had more exposure in other areas of HR such as talent acquisition or total rewards. It would have been ideal to build up my skill sets and become more 'expert level' in those areas. There is definitely value in taking a deeper dive into different facets of your professional background. It's actually quite difficult to do so now.
How did you start your career?
I started my career working at Citi and I was going to school full-time while working part-time. I was trying to sort through what I was passionate about at the time (when you're young, you just don't really know!)
I was working in the retail branch and there was an HR generalist who's background I found very interesting. I started talking to her about her work, and asked if she would mentor me. We started this mentoring relationship when an opportunity opened up as a HR coordinator which was a perfect step for me. There is power in having an advocate.
Not only was she a mentor, but she was an advocate for me. She saw the passion in me over the course of our relationship and took a chance on me.
What are some best practices you live and die by as a HR professional?
On my way into work I listen to a New York Times podcast for the top 10 stories of the day. Once I get into my office, I read up on the WSJ to see what's going on in the business world. I live and die by not just focusing on HR reading, but also knowing what's going on in the business world. Once you bridge together the power of knowing business and HR, you are that much more impactful.
From a personal standpoint, it's important to take time to yourself to reflect and center yourself. I always make time to work out, maybe take a pilates class, which helps give me space to think creatively.
What is your favorite app at the moment?
Self care is big for me. I've been trying to get into more meditative practices through the Calm app which has really helped.
What's the best part of your day?
When I have my coffee! It sets me up for the day. Listening to my podcast and having my coffee is my #1 ritual that makes me happy!
What is the buzzword or phrase you'd like to ban forever?
The word 'Innovation' gets diluted to the point where it doesn't really matter. If I could also ban 'strategic' I would.
What's your proudest career moment?
My proudest moment was having the opportunity to go abroad for work. My company at the time was undergoing massive organizational changes which gave me the chance to live in the UK for a year. I worked on and led three major projects, one of them focusing on equity which was so important to me. I was proud to publish this work knowing that we had just completed a deep dive analysis in order to really come up with a tangible plan for closing the gender pay gap.
With special thanks to: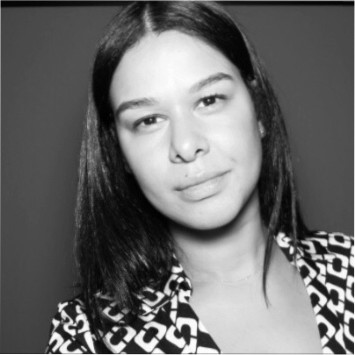 Yudelkis Nunez-Rodriguez
Director, Human Resources Business Partner, Strategic Growth at Mastercard