Content Marketing Masterclass
Hear from thought leaders, connect with senior marketers, and tackle your biggest challenges at our In-Person Content Marketing Masterclass. With snappy expert presentations and intimate roundtable discussions, this Masterclass is the perfect forum for you to discover the latest Content Marketing tech, strategies, and solutions.
LONDON - Royal Society of Chemistry, Burlington House
Created for an audience of senior marketing professionals from across London and surrounding areas. Breakfast will be served from 8:30am GMT and presentations will start at 9:00am.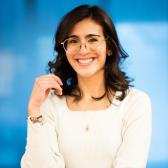 Global Influencer Partner Lead
Julia is the Influencer Partner Lead at IG. She is responsible for leading the delivery of the influence strategy and playbook, acting as the central influence expert across the globe, as well as driving continual improvements in performance, efficiency, and workflows, supported by operational analytics.
Past Attendees




How it Works
Our ethos is simple. We want you to be an active participant. That's why we've developed a format designed to optimise interaction and engagement.
We start our Content Marketing Masterclass with a series of 10 minute expert presentations before moving on to our expert-led roundtable discussions. Each roundtable lasts 20 minutes. When the time's up, the expert at your table will move on and you'll be joined by a brand new speaker.
These intimate 20 minute sessions are the perfect forum for you to ask questions and find solutions to your content marketing challenges.
And if you already know what you'd like to discuss, just let us know. Our registration form gives you the chance to suggest core topics and help us shape the agenda. Click the button to register now.
Show agenda
Registration & Networking


Why Speed and Agility Makes the Difference in Digital PR
Peter Finnegan, Senior PR Campaign Manager - Reprise

Seeing is Believing…
Ollie Mowles, Social Media Manager - Selesti

How to Sprinkle a Little Magic Into Your Content and Comms
Claudia Gordon, Senior Business Development Manager - Relative Insight
Why creating grEAT content is even more vital than ever to win in search
Scott Donnelly, Digital Strategy Director - QueryClick

Fireside Chat
Julia Salume, Global Influencer Partner Lead - IG


With thanks to our experts



Interested in becoming one of our experts?