Cyber Security Masterclass
Join Cyber Security experts – EveryCloud, Keysight, Extrahop, and Tenable – at our interactive In-Person Cyber Security Masterclass.
We'll be exploring topics like how to proactively evolve the maturity of your cybersecurity, the human factor in Phishing, how to stop ransomware, and Active Directory Security. To close, Panasonic Europe's Cyber Security Manager, Gaus Rajnovic, will give an unmissable keynote about how tech alone cannot protect us from cyber attacks and breaches.
Join us after the event for drinks and the chance to connect with peers.
LONDON - Royal Society of Chemistry, Burlington House
Created for an audience of senior Cyber Security professionals to explore the latest strategies, solutions, insights and tech. Please plan to arrive by 1:30pm BST.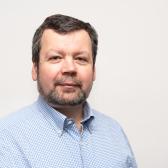 Damir "Gaus" Rajnovic has been actively involved in cyber security since 1993 – in both incident response and product security. His current role at Panasonic sees him heading up IT and product security across the EMEA region.
Years of experience and expertise have led to Gaus becoming a subject matter expert at the British Standards Institution (BSI). He's also an editor and expert on several international standards within ISO and ITU, working on security incident response, and product security and vulnerability.
Past Attendees




How it Works
Our ethos is simple. We want you to be an active participant. That's why we've developed a format designed to optimise interaction and engagement.
We start our Cyber Security Masterclass with five 10 minute expert presentations before moving on to our expert-led roundtable discussions. There are five roundtables in total, each lasting 20 minutes. When the time's up, the expert at your table will move on and you'll be joined by a brand new speaker.
These intimate 20 minute sessions are the perfect forum for asking questions, and finding solutions to your cyber security challenges.
And if you already know what you'd like to discuss, just let us know. Our registration form gives you the chance to suggest core topics and help us shape the agenda. Click the button to register now.
Show agenda
Registration & Networking


What's an effective Attack Surface Management strategy?

Find it before they do – Proactively evolving the maturity of your cybersecurity
Andy Young, Security Solutions Architect - Keysight

Stop Ransomware Before It Stops You
Jamie Moles, Senior Technical Marketing Manager - Extrahop

Steps after initial compromise: How to Attack Active Directory
Charles Clements, SE Manager - Tenable


Keynote Presentation: Security is a human issue
Gaus Rajnovic, Cyber Security Manager - Panasonic Europe


With thanks to our experts



Interested in becoming one of our experts?