Digital Marketing Masterclass
Hear from thought leaders, connect with senior marketers, and tackle your biggest challenges at our In-Person Digital Marketing Masterclass. With snappy expert presentations and intimate break-out rooms, this Masterclass is the perfect forum for you to discover the latest Digital Marketing tech, strategies, and solutions.
AMSTERDAM - Eye Film Museum, IJpromenade 1, 1031 KT
Created for an audience of senior marketing professionals from Amsterdam and surrounding areas. Please plan to arrive by 1:30pm CET.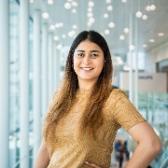 With over 10 years' experience in the technology industry, Sakshi is an expert at striking the balance between achieving business objectives and driving transformation. Her role at Philips Domestic Appliances sees Sakshi leading the marketing communications team responsible for key global initiatives and launches across different business units.
Past Attendees





How it Works
Our ethos is simple. We want you to be an active participant. That's why we've developed a format designed to optimise interaction and engagement.
We start our Digital Marketing Masterclass with a series of 10 minute expert presentations before moving on to our expert-led roundtable discussions. Each roundtable lasts 20 minutes. When the time's up, the expert at your table will move on and you'll be joined by a brand new speaker.
These intimate 20 minute sessions are the perfect forum for you to ask questions and find solutions to your digital marketing challenges.
And if you already know what you'd like to discuss, just let us know. Our registration form gives you the chance to suggest core topics and help us shape the agenda. Click the button to register now.
Show agenda
Registration & Networking


Expert Presentation - Leadfamly
Expert Presentation - Braze
Expert Presentation - Meltwater


Keynote Presentation
Sakshi Kaul, Creation Lead - Philips


With thanks to our experts



Interested in becoming one of our experts?