Digital
"We live in a world where customers online will not shop if they don't get a good experience. They are deciding what they buy (and where from) on the experience you give them online" – Talking Digital with Frazer Adnam, Country Manager, Contentsquare
What is the biggest challenge facing the digital industry and why?
As someone who's spent their career on the brand side, there are a couple of key challenges that needed innovation. The first being democratizing data to empower internal teams to make fast decisions and drive revenue. As those who've worked in customer experience roles know, it's difficult to stitch online data together to clearly and accurately understand customer journeys, online revenue attribution, and the value and performance of marketing channels and placements. Usually, you have to ask an analyst or your IT team for a report, wait for them to pull it, and tweak or add some new data which delays it further. By the time you have the finalized report, if you're a fast-moving business, you've already missed the opportunity or your key stakeholders are focused on something new. Democratizing data and insights between teams – like sales, marketing, IT, and product – is a common problem I've seen in most businesses that I've worked in. I think it's just fascinating that brands can now use AI technology to tell a much deeper story, get faster insights, understand key opportunities, and drive growth faster than ever before. Need a report on how a specific visitor segment is behaving online for a specific time frame and device? Just log in to Contentsquare and it's there when you need it.
The second thing that I find fascinating is how AI can do a lot of your heavy lifting. For years, I would hire a team to analyze and saturate data experiences, manually look at customer journeys, and spend weeks and weeks and weeks trying to find problems. Now, there's a tool on the market that can use AI to scan your whole website and tell your team exactly where to look. That's empowering them to solve more problems, faster. That is going to be the future of customer experience and how brands fix leaky sales buckets online.
What excites you? What do you think will be the next 'gamechanger' in digital experience?
In my short time at Contentsquare so far, I've been amazed by how quickly product updates are rolled out. I think there have been three updates since I've joined! We have an incredible R&D department with over 200 people that are working towards new, innovative product additions every day. I'm incredibly excited that there's a dedicated focus on AI merchandising at the moment. I feel this is an area where online businesses will get incredible value.
I think that the culture of constantly innovating and constantly wanting to enhance our product seeps through every company. Even in my early days here, I'm incredibly excited to be a part of that roadmap.
Further to this, the ability to use our quantification tool to put a revenue number on your biggest problems so you know what to work on first. That for me, is a game changer.
What do you wish you'd known 10 years ago?
That digital experience would become as prominent as it has. I always knew it would play a part, but we now live in a world where customers online just will not shop if they don't get a good experience. They are deciding what they buy (and where from) on the experience you give them online. It's crazy, and I wish I could have seen the velocity toward this behaviour coming 10 years ago.
What did you learn from your time with Deliveroo and AfterPay?
I've had extensive experience across Australia and New Zealand in several different customer growth and CRM roles, focused particularly on building customer revenue programs from the ground up. I was one of the first three marketing hires for online food delivery company Deliveroo in Australia where I was focused on building and scaling their customer behaviour function through automated CRM and lifecycle growth strategies. I spent the best part of 2.5 years turning Deliveroo's CRM function into a well-oiled machine until a brand called AfterPay reached out to me with a unique offer.
AfterPay, which is now a $40bn business and one of the fastest-growing technology companies in ASX history, wasn't anywhere near as established as it is today. It was a small office in Sydney and the CMO at the time was looking for someone to build out their customer growth engine. I've always had a fascination for brands that are doing something different, so when she reached out to me, I was hooked. AfterPay's mission is to change the way people feel about payments and flip the traditional credit model on its head. I loved that proposition and decided to join their movement. I was the first hire for CRM and customer lifecycle management and worked to scale the whole function, starting with Australia and New Zealand and then rapidly launching into the US & UK markets. As of last month, Afterpay has just hit over 10m active customers and is quickly scaling into Canada as its fifth market.
That brings me here today, leading Australia and New Zealand growth at Contentsquare as their General Manager for ANZ. The most exciting part of this role for me is the ability to marry my past experience with a technology I believe strongly is the future of customer experience and revenue growth. I'm hoping my background puts me in a unique position to help key ANZ brands leverage our AI technology to drive accelerated customer experience and revenue growth.
How do you manage work/life balance? How do you unwind?
I have a fantastic fiance' and a 2.5 year old French bulldog named Lenny. We both work a lot, so balance is the simple things. We love to exercise, and make a conscious effort to walk the dog morning and night together. When we have the time, I love to pick up a recipe book (yes they still exist) and cook a complex recipe that I haven't cooked before. I find it therapeutic, kinda like building LEGO (but with ingredients). For this reason, I cook a lot of Thai and modern Asian style dishes as they generally have the most complex micro ingredients, and many of them.
What is your lifelong passion away from work?
Funnily enough, I always wanted to be a school teacher. I love giving back. I think outside work, a lifelong passion would either be to be a venture capitalist, looking and guiding startups on how to take off or if not, definitely a teacher. Really anything that I can give a bit back. I absolutely love the Contentsquare Foundation for this reason and am proud to be part of a company that enables this.
With special thanks to: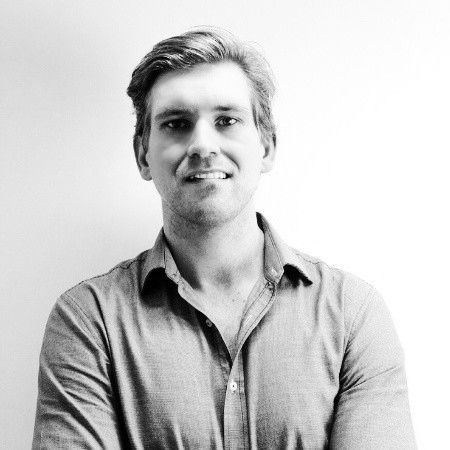 Frazer Adnam
Country Manager ANZ, Contentsquare