Cyber Security Masterclass
Join senior IT & Cyber Security leaders from top brands for an interactive, half day Masterclass designed to showcase the latest strategies, tools, tech, and trends in Cyber Security. Benefit from quick-fire thought leadership presentations and participate in interactive roundtable discussions. Here's your chance to update your knowledge, network with other leaders, and address your challenges!
London - Century Club, Shaftesbury Avenue
Focus on the latest strategies, tools, tech and trends created for an audience of senior IT professionals from across London. Please plan to arrive by 8:30am BST.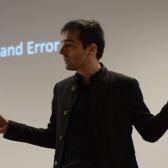 Victor has 17+ years business experience, software development and 6+ years as an investor in public markets. He could probably talk your ear off about Software Architecture and Zero to One Entrepreneurship. He is also passionate about building products and next-gen tech when providing turn-key solutions.
SPW has been the ideal place for an AWS-centric design from day one. As Cloud Architect Lead, Victor was able to help design and implement the data driven architecture we use today. From self-service, to serverless design, to zero data centers, to massive scaling, He is proud to have been one of the minds building and expanding on the cloud-first vision.
Past Attendees




Event Information
This Masterclassing Event will help IT leaders from top brands understand the latest strategies, tools, tech and trends in the market.  
The format is simple: five 10 minute expert presentations are followed by a series of five 20 minute roundtable discussions. Each of the roundtables will be led by an expert speaker and after 20 minutes has elapsed, they will move on and your table will be joined by another expert. These events are designed to be highly interactive and if you're planning on joining us, we strongly encourage you to participate for the entire discussions!
Because of the intimate nature of the roundtable discussions, you are able to ask questions, address challenges facing your organisation, speaking directly with the experts and other participants. Due to the importance placed on discussion, we're sure to address your specific needs during this half-day event.  
In addition, you can help us shape the agenda by suggesting core topics and posing questions to focus on during the registration process. Just click the Register Now button and we look forward to seeing you soon!
Show agenda
Registration & Networking


Harnessing the Crowd - Why Have 1 Tester Behind a Desk When You Can Utilise 1,500?
Richard Hodgson, Sales Manager UKI - Synack.


Keynote Presentation
Victor Popescu, Cloud Architect Lead - Schroders Personal Wealth


With thanks to our experts

Interested in becoming one of our experts?