Virtual Diversity, Equity and Inclusion Masterclass
Join senior HR professionals from leading brands for an online interactive session designed to delve into the intricacies of and best practices of Diversity, Equity and Inclusion in today's workplace.
The latest HR tools, tech and trends created for an audience of senior HR professionals from across North America. The event starts at 11:30am ET.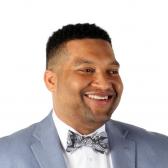 Director Global Diversity, Equity, and Inclusion
Robert Shorty, Ph.D., is the Global Director, Diversity, Equity & Inclusion Business Partner supporting Global Operations and Logistics (GOaL), Global Sourcing and Manufacturing (GSM), and Sustainability. He is responsible for leading the implementation of Nike's global diversity, equity, and inclusion strategy through coaching, educating, and partnering closely with his HRBPs and business leaders.
Robert brings over 15 years of human resources and diversity, equity, and inclusion experience with Fortune 100 companies – such as Target, McDonald's, and Starbucks. He led People Strategy and Organization for the North America Supply Chain organization in his prior Nike role.
Robert, a native of Chicago, is based out of the mid-South in Memphis, TN. Robert has been passionate about community and social services his entire life. He currently serves on the Board of Directors for the Memphis Urban League. Robert has served as an Associate Board member for Mercy Home for Boys and Girls, an Advisory Board Member for Starfish Alliance, was a member of the Columbus Urban League Young Professionals, and served as a community-based volunteer for Big Brothers Big Sisters of Central Ohio. He is a proud brother of Alpha Phi Alpha Fraternity, Inc Alpha Delta Lambda Chapter, which serves the greater Memphis area and was recognized as one of Columbus's 40 Under 40 in 2017 by Columbus Business First.
Past Attendees








Event Information
The Diversity, Equity & Inclusion Masterclass is designed to help HR leaders understand the latest tools, tech and trends in the market. Our roster of HR experts will give rapid-fire 10 minute presentations to each breakout room, highlighting case studies to display the latest Diversity, Equity & Inclusion trends and best practices, followed by 20 minute peer-to-peer discussion groups.

Our Virtual Masterclasses have three breakout room rotations, each featuring a 10 minute presentation from one of our Diversity, Equity & Inclusion experts, followed by 20 minutes of peer-to-peer discussion. These events are designed to be highly interactive and if you're planning on joining us, we strongly encourage you to participate in the discussion with your audio and video on!
And you can help us shape the agenda by suggesting core topics to focus on during the registration process. We hope to see you at the Diversity, Equity & Inclusion Masterclass in September.
Show agenda
Check In & Welcome
Join Zoom meeting

Expert Presentations & Roundtable Discussions
Three half-hour sessions led by expert speakers where presentations and roundtable sessions enable you to share knowledge with other senior HR leaders about challenges currently being faced and allow you to get answers for the questions that mean most to you and your brand.

DEIB for HR: Moving from Mission Makers to Change Agents
Andrea Holman, PHD - DEIB & Program Manager, Workforce Mental Health

Rethinking the importance of DEI & Mental Wellbeing
Andreea Vanacker - CEO

Diversity, Equity, and Inclusion as a Daily Habit
Dr. Robert Shorty - Director Global Diversity, Equity, and Inclusion


With thanks to our experts


Interested in becoming one of our experts?