Programmatic for Publishers Masterclass
The programmatic industry has recently had its share of ups and downs. Undoubtedly, programmatic advertising offers tremendous benefits. However, programmatic is still plagued by some serious issues, including fraud, transparency and brand safety. Advertisers and their agencies need to be reassured that the money they spend on programmatic will deliver ads that are seen by humans, in brand-safe environments, and that budget allocated to media will go to media, and not be swallowed up by an opaque mass of middlemen. The Programmatic for Publishers event will drill down on these important matters and provide insights that address publishers' specific needs and challenges.
London - Century Club, Shaftesbury Avenue
Focus on the latest strategies, tools, tech and trends created for an audience of senior marketing professionals from London and across the UK. Please plan to arrive by 8:30am BST.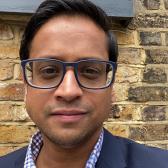 Senior Director Ad Revenue and Ops
Globally established programmatic and ops leader, that has helped establish video-based ad platform across various publishers from music (SoundCloud) to most notably at a sports streaming service DAZN and Zee5. 15-year career ranging from ad operations, programmatic solutions, measurement, and self-service.
"Pluto" in "Programmatic CTV space"
Past Attendees




Event Information
This Masterclassing Event will help marketing leaders from top brands understand the latest strategies, tools, tech and trends in the market.
The format is simple: five 10 minute expert presentations are followed by a series of five 20 minute roundtable discussions. Each of the roundtables will be led by an expert speaker and after 20 minutes has elapsed, they will move on and your table will be joined by another expert. These events are designed to be highly interactive and if you're planning on joining us, we strongly encourage you to participate for the entire discussions!
Because of the intimate nature of the roundtable discussions, you are able to ask questions, address challenges facing your organisation, speaking directly with the experts and other participants. Due to the importance placed on discussion, we're sure to address your specific needs during this half-day event.
In addition, you can help us shape the agenda by suggesting core topics and posing questions to focus on during the registration process. Just click the Register Now button and we look forward to seeing you soon!
Show agenda
Registration & Networking

How to Boost Programmatic Deal Revenue
Jean-François Bernard, Chief Product Officer & Co-founder and Nicolas Schueller, CEO & Co-founder - Adomik

The Next Great Programmatic Opportunity for Publishers
Anthony White, Head of UK Publisher Development - Passendo

The Rise of Programmatic Curation
Bernie Sham, Product Marketing - The MediaGrid


Keynote Presentation
Dhruv Roy, Senior Director Ad Revenue and Ops - ViacomCBS Networks International


With thanks to our experts



Interested in becoming one of our experts?