Digital
Virtual Digital Beauty Masterclass
Join senior marketers from leading beauty brands for an online interactive session designed to showcase the latest tools, tech and trends in digital marketing. Benefit from quick-fire thought leadership presentations and participate in interactive roundtable discussions. Here's your change to update your knowledge, network with other leaders, and address your challenges! 
EAST COAST - Online Event
Focus on the latest strategies tools, tech and trends created for an audience of senior marketing professionals from beauty brands within the East Coast and Northern America. The event starts at 9:00am EDT.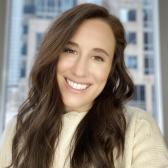 Keynote Speaker
Senior Director Social Media and Partnerships
Profile
Emily Horn is a social media strategist and partnerships director with over 15 years experience across entertainment, direct-to-consumer, and nonprofit industries. She specializes in consumer engagement and partnerships, building value-driven connections to grow brands and businesses. She launched partnerships and strategy for the Ryan Seacrest Foundation, has developed the social platforms for online communities like Bump Club & Beyond, and is currently the Senior Director of the makeup brand trèStiQue, overseeing the brand's social strategy, engagement, events, and partnerships. In the past 3 years, she has built a network of almost 1000 influencer partners and grown the brand's reach from New York local to nationwide. You can stay in touch with Emily by following her at @trestique, personally at @shmemels, or on LinkedIn.
Attendees








Event Information
The Digital Beauty Masterclass will help marketing leaders from beauty brands develop cutting edge digital strategies to drive growth and new business opportunities as well as engage and retain existing customers.
The formate is simple: we have three Virtual Roundtable rotations, each featuring a 10 minute presentation from one of our digital expert speakers, followed by 20 minutes of peer-to-peer discussion. After each presentation and discussion, a new team of experts will join the room to deliver their presentation and facilitate the discussion. These events are designed to be highly interactive and if you're planning on joining us, we strongly encourage you to participate in the discussion with your audio and video on!
Because of the intimate nature of the breakout rooms, you are able to ask questions, address challenges facing your organization, speaking directly with the experts and other participants. Because of the importance placed on discussions, we're sure to address your specific needs during this 2 hour event. 
In addition, you can help us shape the agenda by suggesting core topics and posing questions to focus on during the registration process. Just click the Register Now button and we look forward to seeing you soon! 
Show agenda
Check In & Welcome
Join Zoom meeting


Expert Presentations & Roundtable Discussions
Three Expert presentations followed by interactive roundtable sessions enable you to engage with the Experts and other digital marketing leaders. You are able to address the challenges you face and get answers to the questions that mean most to you and your brand.


3 Creator Marketing Trends for 2021
Adam Rivietz - Co-Founder
Danny Desatnik - Brand Partnerships

Let's Get Personal: Creating Relevant Experiences to Win Loyal Customers

Quiz Commerce: Simple Ways to Drive Big Results

Debunking Influencer Partnerships Myths
Emily Horn - Senior Director Social Media and Partnerships

With thanks to our experts



Interested in becoming one of our experts?