Virtual Digital Marketing Masterclass
Join senior marketers from top brands for an interactive virtual Masterclass designed to showcase the latest strategies, tools, tech, and trends in digital marketing. Benefit from quick-fire thought leadership presentations and participate in interactive roundtable discussions. Here's your chance to update your knowledge, network with other leaders, and address your challenges!
Focus on the latest strategies, tools, tech and trends created for an audience of senior marketing from across the United Arab Emirates. The event starts at 9:00am GST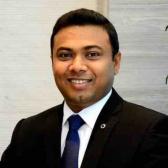 Regional Director of Revenue Management, Distribution, Digital & eCommerce - Middle East and Africa
A passionate hotelier, revenue management, distribution and digital expert with over 18 years of work experience in multicultural, dynamic and challenging environments. Sathis has achieved solid and consistent track records in revenue performances. An awarded leader, positive thinker, solution provider and a disciplined strategist. He believes in team work and leading colleagues, peers and partners through inspirations and examples.
Past Attendees






Event Information
This Virtual Masterclass will help marketing leaders from top brands understand the latest strategies, tools, tech and trends in the market.
The format is simple: we have three Virtual Roundtable rotations, each featuring a 10 minute presentation from one of our digital expert speakers, followed by 15 minutes of peer-to-peer conversations. After each presentation and discussion, a new team of experts will join the room to deliver their presentation and facilitate roundtables. These events are designed to be highly interactive and if you're planning on joining us, we strongly encourage you to participate in the discussion with your audio and video on!
Due to the intimate nature of the breakout rooms, you are able to ask questions, address challenges facing your organisation, speaking directly with the experts and other participants. Because of the importance placed on discussion, we're sure to address your specific needs during this 2 hour event.
In addition, you can help us shape the agenda by suggesting core topics and posing questions to focus on during the registration process. Just click the Register Now button and we look forward to seeing you soon!
Show agenda
Check In & Welcome
Join Zoom meeting

Expert Presentations & Roundtable Discussions
Three Expert presentations followed by interactive roundtable sessions enable you to engage with the Experts and other brand marketing leaders. You are able to address the challenges you face and get answers to the questions that mean most to you and your brand.

4 Steps to Digitise and Control your Brand's Reputation
Laila Mousa, Account Executive Director IME - Meltwater

When to advertise? What to advertise? Who really leads your market? Could Search Data be the source of truth to answer these questions?
Matt Colebourne, CEO - Searchmetrics

Context Matters: Why Brand Suitability is Important for the Advertiser?
Johara Abdelmoumen, Business Director - DoubleVerify & Wassim Mneimneh, Business Director - DoubleVerify.

Keynote Presentation - Return on Emotion – Digitalising Guest Experience
Regional Director of Revenue Management, Distribution, Digital & eCommerce - Middle East and Africa - Millennium Hotels


With thanks to our experts


Interested in becoming one of our experts?