HR
Virtual Employee Engagement Masterclass
Join senior HR professionals from leading brands for an online interactive session designed to showcase the latest tools, tech and trends in the employee engagement space. Update your knowledge, get ahead of your competition, master HR!
The latest employee engagement related tools, tech and trends created for a virtual audience of senior HR professionals.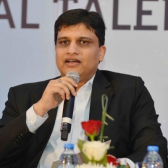 Keynote Speaker
Director, Talent Management
Profile
Sachin is currently responsible for setting and driving the strategic talent agenda globally as it relates to organizational culture, employee engagement, measurement, and the translation of data-driven people insights into business actions across all PepsiCo sectors & functions.
Over the last 15 years at PepsiCo, he has vast experience in employee relations, learning, HRBP and Organization Development across different international geographies. He has a masters in Human Resources and a graduation in engineering.
Past Attendees








Event Information
The Employee Engagement Masterclass will help HR leaders understand the latest trends in employee engagement, ranging from the latest tech tools to creating an enriching environment and a culture of workplace engagement.

The event will consist of three presentations each capped at 10 minutes delivered by our digital partners providing insights on emerging HR trends and technology. The sessions will be followed up by a series of three 20-minute virtual roundtables designed to enable HR leaders from the most influential brands to share knowledge in a collaborative and interactive environment.

Once your mind is filled with new ideas, our brand keynote will deliver an insightful and inspirational case study presentation to close the event.
Show agenda
Check in
Join Zoom meeting.

Presentation Topic: Recognition Initiatives
10 minute presentation exploring current trends & technology.

Presentation Topic: Employee Experience Management
10 minute presentation exploring current trends & technology.
Presentation Topic: User-generated videos
10 minute presentation exploring current trends & technology.

Virtual Roundtable
Three 20-minute roundtable sessions allowing you to share knowledge with other senior HR leaders about the challenges that you and they are facing, meet the HR experts, and get answers for the questions that mean most to you and your brand.

Employee Engagement and Culture Transformation
Sachin Jain - Director Talent Management


With thanks to our experts


Interested in becoming one of our experts?