Virtual Future of HR Masterclass
From talent and recruitment to hybrid work strategies and wellbeing, we'll be exploring your biggest challenges at our Virtual Future of HR Masterclass. With snappy expert presentations and intimate break-out rooms, this Masterclass is the perfect forum for you to discover the latest HR trends, strategies, and solutions.
This free-to-attend event is intended for an audience of senior HR professionals from throughout the UK. This session will not be recorded and begins at 9:15am GMT.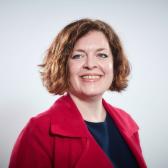 Global HRBP, Human Resources
Sian has always worked in Pharmaceuticals and Healthcare and is passionate about enabling people and organisations to bring innovative medicines to patients all over the world. Most recently, Sian was Head of HR, EMEA for Kyowa Kirin and recently moved into a new role as Global Head of HRBP for Kyowa Kirin to support and accelerate their globalisation journey.
Prior to Vertex, Sian had the pleasure to live and work in both Sweden and Switzerland while working for Baxter. Sian led both country and regional HR teams and has served as part of Country, Regional and Global HR and Business Leadership teams. While at Baxter Sian gained further experience in Talent Management, and most recently before joining Vertex in the UK, Sian lived and worked in Zurich leading HR for their Emerging Markets region, which encompassed more than 100 countries and 2,500 employees in a region spanning from South Africa to Russia.
Past Attendees



How it Works
Our ethos is simple. We want you to be an active participant. That's why we've developed a format designed to optimise interaction and engagement.
We start our Virtual Future of HR Masterclass with a short series of virtual roundtable rotations. Each of these features a 10 minute presentation from one of our expert speakers, followed by 15 minutes of peer-to-peer conversations.
When the time's up, a new team of experts will join the room for a fresh round of presentations and roundtable discussions.
These intimate break-out rooms are the perfect forum for you to ask questions and find solutions to your industry-specific challenges.
Show agenda
Check-in & Welcome
Join Zoom meeting.

Expert Presentations & Roundtable Discussions
Our expert presentations are followed by a series of interactive break-out sessions. Ask questions, raise topics, and address your biggest challenges with our experts and other HR leaders.



With thanks to our experts



Interested in becoming one of our experts?