Virtual HR Trends Masterclass
Join senior HR professionals from leading brands for an interactive session designed to showcase the latest tools, tech and trends in HR. Here's your chance to update your knowledge, network with other leaders, and address your challenges!
The latest HR tools, tech and trends created for an audience of senior HR professionals from New York. The event starts at 9:00am EDT.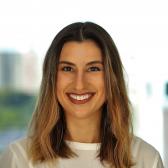 Director of Diversity, Equity and Inclusion at Walmart
Jessie leads Walmart's Global DEI Talent team, creating a more diverse, equitable, and inclusive candidate and associate experience that ensures a better and more prosperous world for all of us. Jessie has dedicated her career to advocating for marginalized and disenfranchised groups of people. Starting as a middle school math teacher in Philadelphia and more recently as a management consultant and DEI implementation expert at Bain & Company, Jessie is committed to the lifelong journey of being an empathetic and transformative DEI leader. In her spare time Jessie loves to read, listen to podcasts, watch reality television, and order hand pulled noodles with her partner and friends.
Past Attendees






Event Information
The HR Trends Masterclass is designed to help HR leaders understand the latest tools, tech and trends in the market. Our roster of HR Experts will give rapid-fire 10 minute presentations to each breakout room, highlighting case studies to display the latest HR trends and best practices, followed by 20 minute peer-to-peer discussion groups.

Our Virtual Masterclasses have three breakout room rotations, each featuring a 10 minute presentation from one of our HR experts, followed by 20 minutes of peer-to-peer discussion. These events are designed to be highly interactive and if you're planning on joining us, we strongly encourage you to participate in the discussion with your audio and video on!
Whether it is through employee engagement, health and wellbeing, HR strategy, HR technologies, talent acquisition, financial wellbeing, learning & development, we're sure to address your employee engagement needs during this 2 hour event.
And you can help us shape the agenda by suggesting core topics to focus on during the registration process. We hope to see you at the HR Trends Masterclass in November.
Show agenda
Check In & Welcome
Join Zoom Meeting

Expert Presentations & Roundtable Discussions
Three Expert presentations followed by interactive roundtable sessions enable you to engage with the Experts and other HR leaders. You are able to address the challenges you face and get answers to the questions that mean most to you and your brand.


Digital Health Trends and the Future of Care Delivery
Jami Doucette - President

Connecting the dots: Employee recognition, voice, and engagement
Tom Kiriakou - Director of Customer Success

3 Ways to Drive Performance and Retention through Employee Engagement
Sarah Sheehan - Co-Founder & President

Keynote Presentation
Jessie Spellman - Director Diversity, Equity, and Inclusion


With thanks to our experts


Interested in becoming one of our experts?