Digital
Virtual Search Masterclass
Join senior marketers from leading brands for an interactive virtual conference designed to showcase the latest tools, tech, and trends in search marketing. Update your knowledge, get ahead of your competition, and master search!
The latest search tools, tech and trends created for an audience of senior marketing professionals from across the UK. The event starts at 9:00am GMT.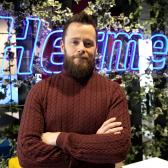 Profile
Karl is an accomplished, commercially focused marketer who has worked both client and agency side, helping some of the UK's top brands thrive.  He has 20+ years' experience driving growth for B2B and B2C businesses across brand management, advertising, shopper marketing, content, digital, social and SEO. He cut his teeth in SEO and PPC during his stint as Head of Marketing for funkypigeon.com, and in his current role his SEO leadership has helped Hermes gain wide industry acclaim.
Past Attendees





Event Information
This event is not a traditional conference!
The Search Masterclass will help marketing leaders develop cutting edge search marketing strategies to drive growth and new business opportunities as well as staying ahead of the competition.
The event will consist of three presentations each capped at 10 minutes delivered by our digital partners providing insights on emerging trends and technology. The sessions will be followed up by a series of three roundtables designed to enable marketing leaders from the most influential brands to share knowledge in a collaborative and interactive environment.
Show agenda
Check In & Welcome
Join Zoom meeting


Expert Presentations & Roundtable Discussions
Two Expert presentations followed by interactive roundtable sessions enable you to engage with the Experts and other brand marketing leaders. You are able to address the challenges you face and get answers to the questions that mean most to you and your brand.


To Automate or Not to Automate: Are Smart Campaigns The Way Forward?
Malcolm , QueryClick
The Digital Transformation is Happening at Warp Speed -- but are you moving fast enough?
Sean Davison, Yext

Keynote Presentation - Learnings from a year in the life of a digital strategy
Karl O'Leary, Senior Marketing Lead, Hermes


With thanks to our experts



Interested in becoming one of our experts?