Virtual Social and Influencer Marketing Masterclass
Is your social marketing hitting the spot? Learn how to optimise your reach and engagement at our Virtual Social and Influencer Marketing Masterclass. With snappy expert presentations and intimate break-out rooms, our interactive 2 hour event is the perfect forum for you to explore the latest strategies and solutions.
This free-to-attend event is intended for an audience of senior marketers from throughout the UK. This session will not be recorded and begins at 9:15am GMT.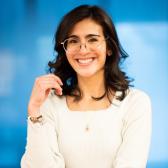 Julia is the Influencer Partner Lead at IG. She is responsible for leading the delivery of the influence strategy and playbook, acting as the central influence expert across the globe, as well as driving continual improvements in performance, efficiency, and workflows, supported by operational analytics.
Past Attendees








How it Works
Our ethos is simple. We want you to be an active participant. That's why we've developed a format designed to optimise interaction and engagement.
We start our Virtual Social and Influencer Marketing Masterclass with a short series of virtual roundtable rotations. Each of these features a 10 minute presentation from one of our expert speakers, followed by 15 minutes of peer-to-peer conversations.
When the time's up, a new team of experts will join the room for a fresh round of presentations and roundtable discussions.
These intimate break-out rooms are the perfect forum for you to ask questions and find solutions to your industry-specific challenges. And if you already know what you'd like to discuss, just let us know. Our registration form gives you the chance to suggest core topics and help us shape the agenda. Click the button to register now.
Show agenda
Check-in & Welcome
Join Zoom meeting.

Expert Presentations & Roundtable Discussions
Our expert presentations are followed by a series of interactive break-out sessions. Ask questions, raise topics, and address your biggest challenges with our experts and other marketing leaders.

Implementing Strategies to Increase Brands' Engagement
Keynote Presentation from Julia Salume, Influencer Partner Lead - IG


With thanks to our experts

Interested in becoming one of our experts?