Virtual Social Marketing Masterclass
Join senior marketers from leading B2C brands from the Midwest and across Northern America for a virtual conference designed to showcase the latest tools, tech, and trends in social marketing. Update your knowledge, get ahead of your competition, and master social!
The latest digital tools, tech and trends created for an audience of senior B2C marketing professionals from the Midwest and across Northern America. The event starts at 9:00am CT.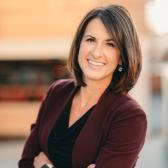 Keynote Speaker
Director of Enterprise Social Media and Strategic Public Relations
Jen is responsible for protecting and improving John Deere's reputation by leading an enterprise social media and public relations strategy for John Deere. This includes leading Deere's crisis communications and reputational issues management while also amplifying proactive PR and storytelling opportunities via external channels including earned media, social media, the John Deere newsroom and executive social media platforms.
Jen has over 25 years of experience in public relations, communications and marketing (12 of those years have been with John Deere.) Her roles at Deere have included serving as the Public Relations Specialist and Communications Manager at Harvester Works; leading a community of practice for factory communicators, serving as a Marketing Communications Manager for compact construction equipment; and most recently serving as the Social Media Manager for the enterprise.
Jen is a passionate autism advocate and the co-founder of Royal Ball Run for Autism which raises funds and greater acceptance and awareness for children and young people with autism in the Quad Cities area. She and her husband Pat (a facilities engineer for Deere) have two children: Lyric (19) and Kade (7).
Past Attendees






Event Information
The Virtual Social Marketing Masterclass will help marketing leaders from brands develop cutting edge digital strategies to drive growth and new business opportunities as well as engage and retain existing customers.
The event will consist of three presentations each capped at 10 minutes delivered by our digital partners providing insights on emerging trends and technology. The sessions will be followed up by a series of three 20-minute virtual roundtables designed to enable marketing leaders from the most influential brands to share knowledge in a collaborative and interactive environment.
Once your mind is filled with new ideas, our brand keynote will deliver an insightful and inspirational case study presentation to close the event.
Show agenda
Check In & Welcome
Join zoom meeting

Expert Presentations & Roundtable Discussions
Three expert presentations followed by interactive roundtable sessions enable you to engage with the experts and other social marketing leaders. You are able to address the challenges you face and get answers to the questions that mean most to you and your brand.


The Real King of Content: UGC
Jen Hartmann - Director of Enterprise Social Media and Strategic Public Relations


With thanks to our experts


Interested in becoming one of our experts?