Sustainability
Virtual Event
Virtual Sustainability Masterclass
Join senior sustainability leaders from top brands for an interactive virtual Masterclass designed to showcase the latest strategies, tools, tech, and trends in sustainability. Benefit from quick-fire thought leadership presentations and participate in interactive roundtable discussions. Here's your chance to update your knowledge, network with other leaders, and address your challenges!
Focus on the latest strategies, tools, tech and trends created for an audience of senior sustainability professionals from across the midwest of the US. The event starts at 9:00am central time.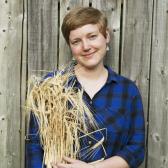 Keynote Speaker
Senior Director of Agriculture & Sustainability
Jess Newman is the Senior Director of Agriculture & Sustainability at McCain Foods, the world's largest manufacturer of frozen potato products and appetizers. Her team of agronomists and field representatives are responsible for all the sweet potatoes, peppers, onions, zucchini, and other vegetables purchased directly from farmers. They also implement McCain's 2025 sustainability goals related to agriculture: 100% of farmers implementing regenerative practices, 25% reduction in farming CO 2 emissions intensity, 15% improvement in irrigation water use efficiency in water-stressed regions, and the launch of three Farms of the Future.
Jess works remotely from her home state of Michigan and travels frequently to support her team (when covid allows).
Jess has worked at the United Nations Food and Agriculture Organization, Ecologic Institute, New York City Mayor's Office of Sustainability, Booz & Company, Consultative Group on International Agricultural Research (CGIAR), and Anheuser-Busch. She holds a B.A. from Harvard, an MPA from the Harvard Kennedy School of Government, and an MBA from the MIT Sloan School of Management. She is passionate about working with farmers, baking, and sci-fi/fantasy.
Past Attendees






Event Information
The Sustainability Masterclass will help sustainability leaders from the biggest organizations develop cutting edge, science backed strategies & sustainable initiatives to implement.  Our roster of experts will give rapid-fire 10 minute presentations to each breakout room, highlighting case studies, followed by 20 minute peer-to-peer discussion groups.

Our Virtual Masterclasses have three breakout room rotations, each featuring a 10 minute presentation from one of our speakers, followed by 20 minutes of peer-to-peer discussion. These events are designed to be highly interactive and if you're planning on joining us, we strongly encourage you to participate in the discussion with your audio and video on!
Whether it is through operations & supply chain, energy & waste management, product innovation, employee engagement, consumer engagement and communications, we're sure to address your sustainability needs during this 2 hour event.
And you can help us shape the agenda by suggesting core topics to focus on during the registration process. We hope to see you at the Sustainability Masterclass in November!
Show agenda
Check in & Welcome
Join Zoom meeting


Expert Presentations & Roundtable Discussions
Three half-hour sessions led by expert speakers where presentations and roundtable sessions enable you to share knowledge with other senior corporate sustainability leaders about challenges currently being faced and allow you to get answers for the questions that mean most to you and your brand.


Keynote Presentation
Jess Newman - Senior Director of Agriculture & Sustainability


With thanks to our experts



Interested in becoming one of our experts?