Sustainability
Virtual Event
Virtual Sustainability Masterclass
Join senior sustainability leaders from top brands for an interactive virtual Masterclass designed to showcase the latest strategies, tools, tech, and trends in sustainability. Benefit from quick-fire thought leadership presentations and participate in interactive roundtable discussions. Here's your chance to update your knowledge, network with other leaders, and address your challenges!
Focus on the latest strategies, tools, tech and trends created for an audience of senior sustainability professionals in the tai-state area. The event starts at 9:00am ET.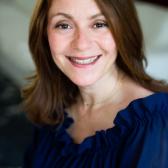 Head of Sustainability Innovation and Engagement
Amanda leads Sustainability Innovation & Engagement at Facebook. Her team leverages Facebook's products and platforms to inspire climate action, and drives engagement with key stakeholders to improve sustainability performance and scale solutions. She also drives the development of ESG strategy for the company.
Before joining Facebook, Amanda was Director of Social Responsibility at Verizon (2019-20), where she developed the company's 2030 corporate responsibility plan, 'Citizen Verizon'. Previously she was VP of Sustainability and Social Innovation at Pearson (2012-19), where she established Pearson's first comprehensive sustainability strategy and ESG report, founded its social innovation incubator, and developed a multi-year partnership with Save the Children to support Syrian refugees in Jordan. 
Amanda spent three years (2009-12) at UNDP leading the 'Business Call to Action,' working with multinational companies to support global development goals through business model innovation. She was also a program director at the International Business Leaders Forum in London (2003-09), advising companies such as Coca-Cola, Unilever, Pfizer, and Shell on ESG in emerging markets, and heading the Voluntary Principles on Security & Human Rights secretariat. 
Amanda chairs the Board of Children in Conflict, advises the founders of social enterprises as a mentor for the Unreasonable Institute, and also mentors MA candidates in the International Development and Policy program at the University of Chicago. She lives in NJ with her husband and two sons. 
Past Attendees







Event Information
The Virtual Sustainability Masterclass will help sustainability leaders from the biggest organizations develop cutting edge, science backed strategies in operations & supply chain, energy & waste management, product innovation, employee engagement, consumer engagement and communications.
The format is simple: we have three Virtual Roundtable rotations, each featuring a 10 minute presentation from one of our sustainability expert speakers, followed by 20 minutes of peer-to-peer conversations. After each presentation and discussion, a new team of experts will join the room to deliver their presentation and facilitate roundtables. These events are designed to be highly interactive and if you're planning on joining us, we strongly encourage you to participate in the discussion with your audio and video on!
Due to the intimate nature of the breakout rooms, you are able to ask questions, address challenges facing your organization, speaking directly with the experts and other participants. Because of the importance placed on discussion, we're sure to address your specific needs during this 2 hour event.
In addition, you can help us shape the agenda by suggesting core topics and posing questions to focus on during the registration process. Just click the Register Now button and we look forward to seeing you soon!
Show agenda
Check In & Welcome
Join Zoom meeting

Expert Presentations & Roundtable Discussions
Three Expert presentations followed by interactive roundtable sessions enable you to engage with the Experts and other brand sustainability leaders. You are able to address the challenges you face and get answers to the questions that mean most to you and your brand.

Emerging Trends in Renewable Energy Use & Scope 2 Emissions Tracking
Harris Cohn - Director of Sales

Achieving Sustainability Targets through Portfolio Optimization
Julia Berg, Partnerships Executive

Embedding Sustainability at Facebook
Amanda Gardiner - Head of Sustainability Innovation and Engagement


With thanks to our experts



Interested in becoming one of our experts?