Wellbeing and Mental Health Masterclass
We know the importance of promoting wellbeing at work – and we also know the challenges. Our In-Person Wellbeing & Mental Health Masterclass will take you on a deep dive into how you can destigmatize mental health and develop a supportive culture with wellbeing at its core. With expert presentations and intimate roundtable discussions, our interactive half-day event is the perfect forum for you to connect with other HR leaders, exchange ideas, and find real solutions.
Where
CHICAGO - Loft on Lake - 1366 W Lake St, Chicago, IL 60607
Created for an audience of senior HR professionals from across Chicago and surrounding areas. Please plan to arrive by 1:30pm CT.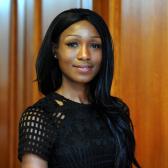 Global Head of Employee Digital Experience
Tope has an eclectic background, majoring in finance, economics, psychology, and human-centric design. Tope has partnered with multiple Fortune 500 organizations, integrating her academic knowledge to drive profitability in a more responsible, conscientious manner. She has worked with Kraft Heinz for the past five years and has relocated from London to Chicago. Currently serving as their Global Head of Employee Digital Experience, Tope's focus is to increase employee productivity and creativity with the use of technology. Tope is a thought leader in the area of Future of Work/Life, actively contributing towards research and experimentation in how people interact, achieve objectives, connect, and collaborate between physical and virtual spaces. She enjoys experimenting and draws inspiration from abstract concepts as well as nature.
How it Works
Our ethos is simple. We want you to be an active participant. That's why we've developed a format designed to optimize interaction and engagement.
We start our Mental Health & Wellbeing Masterclass with a series of 10-minute expert presentations before moving on to our expert-led roundtable discussions. Each roundtable lasts 20 minutes. When the time's up, the expert at your table will move on and you'll be joined by a brand new speaker.
These intimate 20-minute sessions are the perfect forum for you to ask questions and find solutions to your wellbeing challenges.
And if you already know what you'd like to discuss, just let us know. Our registration form gives you the chance to suggest core topics and help us shape the agenda. Click the button to register now.
Show agenda
Registration & Networking
Blurring the Lines Between the Physical and Virtual Space
Tope Sadiku - Global Head of Digital Employee Experience

With thanks to our experts



Interested in becoming one of our experts?