Workshop Week
Virtual Event
Successful Marketing in Uncertain Times Workshop
Marketers have faced a year of non-stop change. Trends such as record numbers of customers going online, a lack of loyalty and shifts in buying behaviours have placed even more value on marketing insights.

92% of senior executives agreed that the lockdown period made digital transformation a priority. You will hear from our partner, Adobe on how this will impact marketing professionals this year and beyond.

Adobe will expand on key themes from the 2021 Digital Trends Report and discuss how a year of constant disruption has changed customer behaviours and pulled marketing into the boardroom.
Join us for this 45-minute workshop that is intended for senior B2C and B2B marketers in London and across the UK. The session will begin at 2:00pm BST.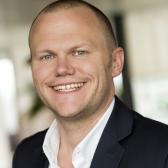 Workshop Leader
Head of Product Marketing, Digital Experience EMEA
Profile
Jamie has worked in digital marketing for 20+ years, 15 of those with Adobe helping clients transform their businesses through customer experience management technologies, including optimisation, personalisation and behavioural targeting. He has experience client, agency and vendor-side and has worked in the digital marketing space for Adobe in EMEA and APAC.
In his current role, Jamie heads up the product marketing team for the Adobe Experience Cloud in EMEA. His current areas of focus include personalisation, AI and the role of technology in delivering superior customer experiences.
Event Information
The 'Successful Marketing in Uncertain Times' Workshop will show marketing leaders how customer buying behaviours have changed over the course of the last year which has placed even more value on marketing insights to understand these new trends.
The 45-minute session will consist of a presentation from our digital partner, Adobe, followed by an intimate and interactive discussion with the speakers and your peers.
In this workshop, you'll gain insights into how:
• Marketing has entered the boardroom as brands turned to digital experience as a lever for growth
• New (previously non-digital) customers are creating new journeys and buying behaviours
• Brands are confronted with fierce competition for digital talent as companies shift to remote working
• Legacy tech and a lack of digital skills are the top barriers to better digital experiences
• To manage these changes and market your way to success