Workshop Week
Collection of
14 Workshops
Virtual Event
Putting Customer Centricity at the Heart of Your Cross-Channel Marketing Strategy Workshop
Thanks to departmental and data silos, many marketers find themselves using a channel-centric approach to marketing. But the key to maximising growth opportunities at every touchpoint is to ensure compelling and consistent experiences across every channel. Consumers love brands that treat them as individuals; what can you do to deliver consistently outstanding personalised experiences?
In this Workshop, customer journey experts Insider will take you through some easy to implement customer-centric marketing strategies, focussing on ecommerce experiences and driving online retail metrics like conversion rates, average order value, and lifetime value.  
Workshop takeaways include:
• Unifying both on and off-site customer experiences
• The latest messaging channels to complement your existing communication strategy (eg. Whatsapp for Business, web push, Facebook Messenger)
• Simple and compelling personalisation strategies
• Generating additional revenue opportunities at every stage of the customer lifecycle
Join us for this 45-minute workshop that is intended for senior B2C marketers in London and across the UK. The session will begin at 9:00am BST.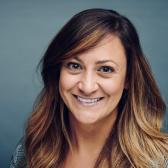 Profile
Allison is an experienced SAAS consultant with ten years experience in the marketing technology space. She began her career at HubSpot before helping to grow Idio across New York and London (acquired by Optimizely). Allison specialised in helping digital marketers across all verticals and organisation sizes provide delightful digital experiences for their customers that drive ROI. The common thread throughout all Allison's experience has been working with best in class organisations that are customer-first.
Event Information
The 'Putting Customer Centricity at the Heart of Your Cross-Channel Marketing Strategy' Workshop will show marketing leaders how to maximise growth opportunities at every touchpoint to ensure compelling and consistent experiences across every channel.
The 45-minute session will consist of a presentation from our digital partner, Insider, followed by an intimate and interactive discussion with the speakers and your peers.
In this Workshop, you'll takeaway:
• Unifying both on and off-site customer experiences
• The latest messaging channels to complement your existing communication strategy (eg. Whatsapp for Business, web push, Facebook Messenger)
Web push and swap Whatsapp for Business to Whatsapp for Business API
• Simple and compelling personalisation strategies
• Generating additional revenue opportunities at every stage of the customer lifecycle